Last updated Jan
Have you ever wondered about very special gifts for violinists? Having a violinist as someone special for you, there must be an occasion when you would want to present something valuable. That something is not determined by its value alone, but also its correlation with his/her specialization as a violinist. So you must check out this gifts for violinist guide before you decide on buying anything.
Music Note Backpack
Being a musician means that she might need to bring some extra stuff with her. This music note backpack is designed to help her with small to moderate luggage, yet still comfortable and stylish. The color scheme is made so that the bag would look elegant and compact. The small strap and medium-sized bag make them even more girly. The cute design makes this backpack well accepted by any girl. Just make sure you pick the right color from our collection, choose that one that she will absolutely love!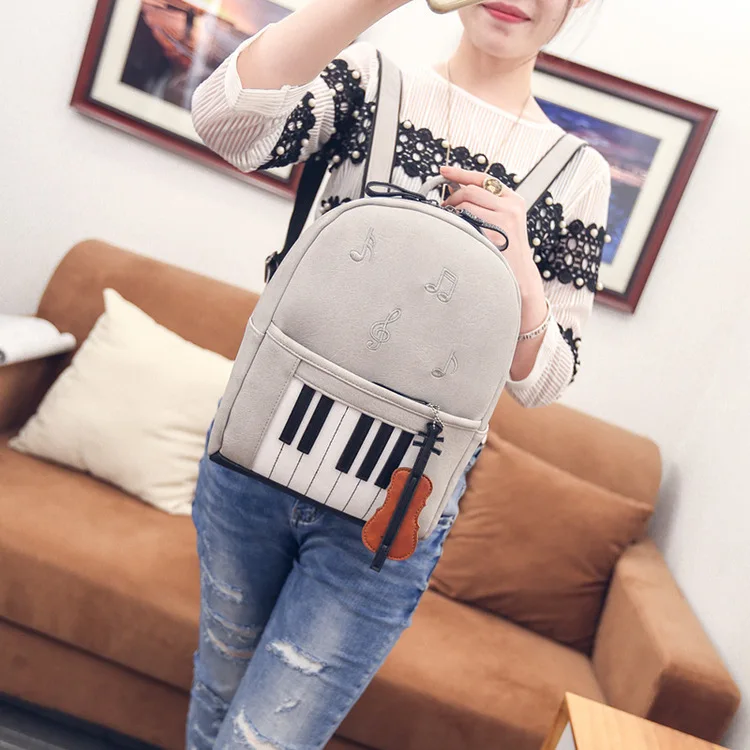 Music Shopping Bag
Need something to accompany her every day without showing off too much? This music shopping bag could be your answer. With its simple and minimalist design, you don't have to worry about standing out too much in the crowd. The interesting thing is that the details made into this product would make her stunned. The small details strap on the bag is just too cute to be missed. It is a small hint that whoever hold into this bag loves violin so much. Its compact size would make it easy to carry anywhere without being a bother, and she would be still able to bring some parchment with her.
The carbon fiber violin bow is all you need to have a strong base in your performance. The round stick ebony frog coming with carving flower will make you rest assured when you play your partiture. This carbon fiber violin bow has precision and accuracy. Not to mention that it has such great balance to support your high rate performance. The bow is strong, balanced, as well as flexible. It can support you to play from the simplest play to the more complicated play. Did we also mention that it is 100% handmade? It can make a perfect gift for beginners who want to explore all of the possibilities.
Brooch Pin
Do you need something universal for both masculine and feminine? This violin brooch pin could make your day. The detailed and unique design make this pin simply intriguing and eye-catching. Moreover, it has realistic colors just like the real violin, making this brooch really wonderful for everyone. This pin comes with a box which is also designed to be very similar to a violin box, it feels like giving a mini violin token as a present. Get this item and make a pleasant surprise for them.
The portable music stand has many excellent characteristics. Its legs fold up and the top is detachable for easy transport and storage. The music holder is spring loaded keeping your sheets in order. Good quality and very durable. Lightweight enough and easy to carry. Tilting bookplate viewing angles offer comfortable viewing; Tripod base offers a stable and sturdy platform for secure viewing.
When you or someone you know wants to bring the violin performance outside, all you need is a full size violin case. This triple-cornered shaped case comes with 4/4 full size. The outer cloth is durable nylon. Meanwhile, the soft inner cloth can provide protection when you carry around your violin with you on travel. Not like the other violin cases, it comes with internal box. The outer zip bag provides space for accessories and music sheets. It will be your freedom on how to carry this case since it comes with solid handle and shoulder straps. Choose this violin case to protect your violin from impact and damage.
Best Gifts for Violin Players Under 20$
Phone Case
iPhones have become a common thing to own among the celebrities, artists, and even teenager. No wonder if your beloved violinist would also have one. In case he/she has these intense activities which include the usage of her phone, you could give one of these phone cases as a gift. Besides protecting the phone from scratches, drops, and other small incidents, these phone cases have a really good violinist vibe in their design. For any artists, the character is something that should have a bold underline. This one could help you state your feelings of admiring their ways of expressing art.
Violin shoulder rest is what you need to improve your game without giving pressure to your body. This shoulder rest comes with good design and lightness. The craftsmen managed to make it durable, comfortable, as well as appealing. It is suitable for those who use viola in the range of  1/2 1/4 1/10 1/8 1/16 4/4 3/4. As we presumably know, developing good posture for violinists is very important not only to play well but also keep the impact minimum to the player. Shoulder rests should be able to support the violinists regardless their level of expertise. Give you or someone you know this shoulder rests to minimize the impacts on neck or shoulder.
The violin wall hanger with unique violin shape tailored for violin, universal for other string instruments with available size. Solid wood base mount with natural wood grain, compact and sturdy construction secures your violin steadily. Specially designed with bow holder for convenient use. Soft silicone padding for better protecting the instrument against scratches.
Jewelry Set
A jewelry set is never wrong for an artist, especially if it has these characteristics that match their interests. You see that our jewelry set collections truly reflects the soul of a violin lover, and of course, they are designed in matching colors, and they would look beautiful on the one you adore. Never miss the chance to get your gifts for violinists, make the magic happen!.
Coffee Mugs
Do you often chat over a cup of coffee with her? Then make sure that she will always get ahold of the things that she likes. Our music note coffee mugs are very suitable for people who genuinely love music. You can never leave your favorite violin even in the middle of your busy days. Our music note mugs are simple and elegant, yet comfortable enough to grip, and you can easily bring them anywhere to enjoy your favorite cup of coffee.
The clip on violin tuner can make everything easier for you or your gift recipient. This small buddy is accurate, precise, and reliable. Unlike the other clip on products, this clip on violin tuner comes with the silicone pickup clip which won't harm the body of your instrument when using it.not to mention that the 360-degree rotation of the tool eases you in adjusting the tuner towards the body of the instrument. you can tune it really fast so that you can perform with peace of mind. This tool is also versatile since you can use it to tune various instruments including Viola, Violin, Cello, as well as Double Bass.
This miniature violin comes with breath-taking design. It can make a perfect gift for your special recipients. They will love to add this to their unique collections or decorate their room. Coming in wooden material, this miniature holds the high rank in the heart of the music lovers. Decorating the room with this miniature violin can really improve the life of the users. It goes without saying that the miniature violin adds the appealing factors in your room. It comes in a wide array of variations which you can freely browse until you find the perfect one for you or your special one.
Bracelets
Something simple, yet still show you how much you love the violin, these vintage leather bracelets are something that you should have. The split leather and violin-shaped plating are just the too perfect match, and they will look right on a violinist's hand, not to mention the style and the impact on the overall appearance. If she doesn't want anything look too fancy, out simple bracelets would be the perfect gift for her. You can choose between three color options, just pick one that matches her favorite clothes, and it would work just fine!
Cufflinks
Do you need some masculine gifts for violinists? Our music violin cufflinks will come in handy, and they also come with a luxury gift box. They are the perfect icon of violinist masculinity that would not only act as an accessory but also improving their performance with little details. The elegant vibe and the premium design. Who wouldn't want to have these cufflinks as a gift for them?
Watches
Do you like to keep your schedule on track? Then our music note watch is something that you must have. The small strap and the elegant design will just fit on her wrist. The premium leather strap ensures that she would be comfortable to wear this watch for a long time. Plus the cute yet elegant design just make them more irresistible. Present this to your special violinist, and she will love it.
Keychain
Something simple, yet meaningful and of course useful. Make sure that your beloved violinist will not forget the important things in their hectic schedule. This violin music note keychain will make your days better, reminding you of the joyous sound of wonderful violin plays. No need to worry about any special occasion or dates, these keychains, you can give them out casually anytime, indeed the gifts for violinists suited to all age and gender.
The silver violin necklace have good silky and latest look which will bring such a great feature for the violin lovers or music lovers in general. The ornaments of this piece are used for appealing look so that anyone who uses this violin necklace will be proud of it and feeling awesome. This cute violin necklace for women comes in such elegant design, making it a perfect fashion piece to improve the overall appearance of the wearer. It is a great choice if you want to find a special gift for your girl, mom, or other special lady. You or someone you know won't regret to wear this on a daily basis.
If you are looking for the best violin strings, this set is definitely a great choice. It comes with complete strings E, A, D, and G. the chrome steel-string core is sturdy, resilient, and long-lasting so that you won't need to worry to see the strings worn anytime soon. Regardless of your level of expertise, these best violin strings can be your best companion. It is a great option for beginners to professional players. The steel core has a bright and clear sound. The different genres of music have been tricky to compensate. But with these strings, you can proceed with your lovely violin.
Looking for something special for your besties? Consider taking this Best Friends Pendant Necklace. The Best Friends Pendant Necklace can be a thoughtful surprise for birthday gift, celebration, or any other special event. As opposed to the commoners, these necklaces come with stunning views with quality. And the messages of "Best Friends" will make this Best Friends Pendant Necklace as the best gift ever. It won't lose the uniqueness in many years in the future. Best Friends Pendant Necklace send such special message which will be around for some time. Your special friend, regardless of their age, will be glad to receive this.
The Music Note Infinity Scarf can be a great surprise for your special lady. Not only to keep her warm this winter, it makes such a perfect decoration. Even though the winter ends, she can still wear this Music Note Infinity Scarf in the Autumn. If your special one is fond of music, this Music Note Infinity Scarf will be an essential part of their style over the years. The stylish Music Note Infinity Scarf can improve the entire look so that your recipient will be proud to wear it in almost any occasion.
The music note pillow case is one of the most prevalent things for music lovers. Made of the best material, music note pillow case won't only add decoration in your room, but also provides such real comfort for napping or sleeping. Researchers claim that people spend 30% of their lives sleeping. So, if you are looking for the most relevant gift to your music lover, the music note pillow case should be in your wishlist. It comes with the zipper as well so that there will be no termite can get into them and harm your special one when they are sleeping. They come in various designs, sizes, and textures as well.
You can choose among the items, which ones will truly suit your, or her taste. Expressing your creativity through music is really awesome, and you would need to appreciate the ones who made it to most of their life. Here are our premium collections of gifts for violinists, you can feel free to browse all over our site, and please inquire us if you need something more than just special as a gift.